QSQM Principal Investigator Mason Elected to National Academy of Sciences
April 2021
Physics professor Nadya Mason is among 120 newly elected U.S. members – 59 of whom are women, the most elected in a single year – and 30 international members in recognition of their distinguished and continuing achievements in original research.
"The historic number of women elected this year reflects the critical contributions that they are making in many fields of science, as well as a concerted effort by our academy to recognize those contributions and the essential value of increasing diversity in our ranks," said National Academy of Sciences President Marcia McNutt. "I am pleased to welcome all of our new members, and I look forward to engaging with them in the work of the National Academies."
At the QSQM Center, Nadya Mason is fabricating TCI-superconductor interface materials as well as arrays for benchmarking the DR scanner instrument, and is also performing transport measurements of candidate topological superconductors as well as strange metal-normal metal interfaces.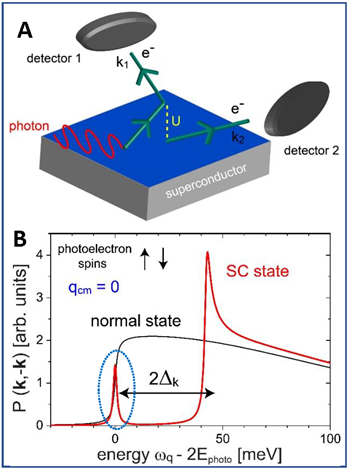 A Theoretical Model for 2e ARPES
April 2021
Dr. Dirk Morr, Professor of Physics at the University of Illinois, Chicago, has developed a theoretical model for 2-electron coincidence spectroscopy (2e ARPES) that can directly measure the center of mass momentum, spin pairing state and energy gap of Cooper pairs in a superconductor.
This ability to distinguish between different superconducting pairing states provides an unprecedented insight into superconducting pairing mechanism.
Dr. Morr is working in a team funded by the Department of Energy (DoE) as an Energy Frontier Research Center (EFRC) for Quantum Sensing and Quantum Materials (QSQM). Other team members include Dr. Peter Abbamonte, Director of the Center and Dr. Fahad Mahmood both at the University of Illinois, and Dr. Tom Devereaux at the Stanford University and the SLAC National Accelerator Laboratory.