IQUIST Scholars: Their experiences & how you can become one too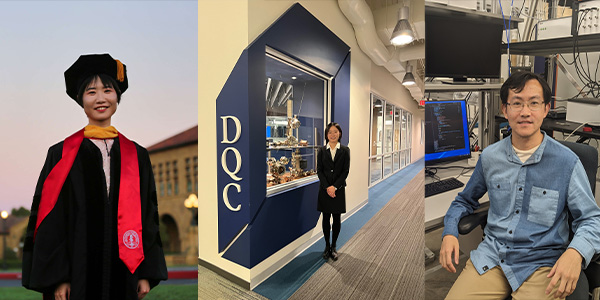 The Illinois Quantum Information Science and Technology Center announces the second year of the IQUIST Postdoctoral Scholar Program.
This program gives selected scholars a chance to work with mentors to home in on research areas of high interest to them. Physics professor Jacob Covey, the program's chair, said, "This program was created to attract talented candidates who may not have otherwise come to the University of Illinois."
Zhanzhi Jiang is a postdoctoral scholar from the University of Texas – Austin. He studied in the Nanoscale Electromagnetic Lab led by Professor Keji Lai. At UIUC, he is part of the Condensed Matter and Quantum Information Science group led by Professor Angela Kou. "[It] offers a singular opportunity to pursue my ambition of developing quantum-limited microscopy that tackles long-standing material challenges in solid-state quantum processors," said Jiang. "Here, I have thrived under insightful mentors, alongside talented peers, and with the support of conscientious staff."
"Being awarded the IQUIST Postdoctoral Fellowship has not only offered me an auspicious entry into the captivating world of QIS but also laid a robust foundation for my future ventures in this burgeoning field."
There is a mutual benefit to the relationship between the scholars and their mentors. The mentors are gaining elite postdocs and the scholars can hone their skills by working with fantastic research teams. Additionally, scholars have more freedom than typical postdocs to pursue collaborative and multi-PI research, which is important for fostering connections within IQUIST.
Covey said they anticipate their scholars to have higher placement into faculty positions than average postdoctoral scholars when it comes to jobs. While these scholars may not stay at UIUC, they are expanding the university's reach and elevating the center's reputation for excellent quantum research.
Postdoctoral scholar Yijing Huang said she is considering a career in academics. Her experience with the scholar program has only made her interest in continuing research stronger. "IQUIST bonds me to other researchers working on the similar projects/with similar interest and the events it holds promotes exchanges of thoughts and collaborations within the institute."
Zhubing Jia completed her Ph.D. in physics at Duke University. She has completed several years of research in trapped-ion quantum computing and joined Covey's lab to focus on utilizing neutral ytterbium-171 atom tweezer arrays for quantum information processing.
"What particularly drew me to IQUIST is the diversity of quantum research being conducted here. I am impressed by the collaborative atmosphere that brings together individuals with varied backgrounds and research interests to advance the field of quantum information science," said Jia. "Joining IQUIST as a postdoctoral fellow has been a remarkable experience, and I am excited to contribute to this vibrant community."
Since the program has only had one round of scholars participate, there is still room for it to grow. Covey said not only could it increase in reputation via the success of its present and past scholars, but it could also enhance our ability to educate communities about the importance of quantum information science while giving the scholars valuable outreach and teaching experience.
IQUIST is looking for the next class of postdoctoral scholars to make their mark. Applications will be reviewed starting October 15. Applications sent by December 15 will still be fully considered. Fill out your application online today!