DOE awards two quantum information science research centers with UIUC as partner
The Grainger College of Engineering's Illinois Quantum Information Science and Technology Center (IQUIST) is a partner institution in two of the five Department of Energy Quantum Information Science Research Centers, announced by the White House Office of Science and Technology Policy on August 26. These centers are aligned with the U.S. National Quantum Initiative Act signed into law in 2018, which called for a long-term, large-scale commitment of U.S. scientific and technological resources to quantum science.
The two centers, Q-NEXT and Superconducting Quantum Materials and Systems Center (SQMS) will be each be funded at $115 million over five years, with $15 million in Fiscal Year 2020 dollars and out year funding contingent on Congressional appropriations. These are part of a large-scale Department of Energy federal program to facilitate and foster quantum innovation in the United States.
"We are proud to be partners in these two new federal research centers. These announcements reinforce our national leadership in quantum information science research and education," said Chancellor Robert J. Jones. "IQUIST is putting Illinois at the center of innovation and discovery in the coming quantum information revolution and designing the educational foundations for the quantum workforce that will be needed."
Q-NEXT: Next generation quantum science and engineering
In the U.S. Department of Energy's Argonne National Laboratory-led Q-NEXT, IQUIST scientists will join nearly 100 world-class researchers from three national laboratories, 10 universities, and 10 leading U.S. technology companies with the single goal of developing the science and technology to control and distribute quantum information. These activities, along with a focus on rapid commercialization of new technologies, will support the emerging "quantum economy" and ensure that the U.S. remains at the forefront in this rapidly advancing field.
10 UIUC faculty from the departments of Physics and Electrical and Computer Engineering will provide Q-NEXT with critical expertise on quantum materials, quantum optics and photonics, quantum communication, quantum algorithms, and quantum information platforms with atomic and material systems. Physics professor and Director of IQUIST Paul G. Kwiat will lead the Q-NEXT Quantum Communication thrust.
"We're thrilled to work with Q-NEXT on some of quantum information's most critical challenges including research in novel quantum materials, quantum memories, and quantum repeaters," said Kwiat. "Q-NEXT will advance the science and technology necessary to connect quantum devices over long distances, which will enable new capabilities for quantum-enhanced communication, quantum processing, and sensing. This center also combines resources across industry, government and academia to help us realize the promise of quantum technology for a better world."
Superconducting Quantum Materials and Systems Center (SQMS)
Led by the U.S. Department of Energy's Fermilab, SQMS brings together 20 partners across national laboratories, academic institutions and members of industry with the goal of building and deploying a quantum computer at Fermilab and developing new quantum sensors based on superconducting technology. SQMS research will focus on optimizing the length of time of that a "qubit," the basic element of a quantum computer, can effectively process information. The center also will develop new quantum sensors, which could lead to the discovery of the nature of dark matter and other elusive subatomic particles.
Yonatan Kahn, assistant professor of physics, brings critical expertise at the intersection of high energy physics and quantum information science to SQMS, notably dark matter detection.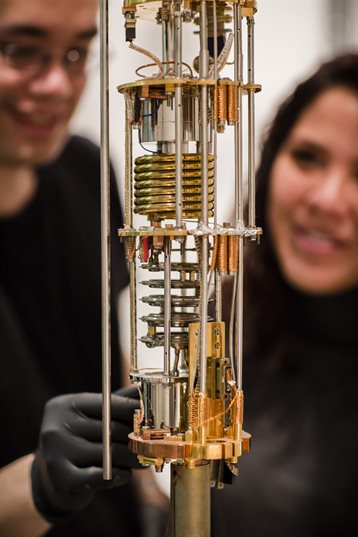 "The nature of dark matter is one of the biggest unsolved mysteries in particle physics, and precision quantum sensors are required to detect its presence in the laboratory. By using the superconducting radio-frequency cavities developed at the SQMS Center, we hope to detect the subtle effects of dark matter particles on electromagnetic fields. The same experimental setup can be used to confirm Heisenberg's 1936 prediction for the probability of photon-photon scattering, a process which has never been observed at low energies," said Kahn.
Quantum partnerships and programs
University of Illinois Urbana-Champaign (UIUC) is a leading institution for quantum information science research and education with numerous faculty and staff providing key support and expertise to Department of Energy and National Science Foundation programs aligned with the 2018 National Quantum Initiative Act. The new centers are the latest in a string of achievements in the region that further UIUC's goal of advancing quantum innovation science and technology.
Earlier this summer the university was awarded programs that will provide synergistic opportunities with the new DOE centers. These include a DOE Energy Research Frontier Center on quantum sensing and quantum materials, an NSF Quantum Leap Challenge Institute on hybrid quantum architectures and networks, and a quantum education program that is providing leadership to the National Q-12 Education Partnership spearheaded by the White House Office of Science Technology Policy and NSF.
IQUIST
The Illinois Quantum Information Science and Technology Center (IQUIST) brings together physicists, electrical engineers, computer scientists, mathematicians, entrepreneurs, and other experts to accelerate quantum information science and technology (QIST) at the University of Illinois Urbana-Champaign. Launched in 2018 with an initial $22 million investment, the IQUIST team are pursuing all aspects of this critical area of research, including quantum computing, quantum materials, quantum networking, and sensing.
IQUIST builds partnerships with research institutions and tech-industry firms beyond the University of Illinois at Urbana-Champaign and is a core partner in the Chicago Quantum Exchange along with the University of Chicago, Argonne National Laboratory, and Fermi National Accelerator Laboratory.